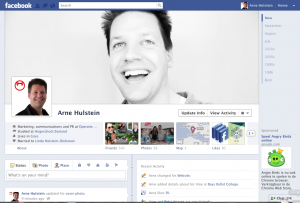 Last Thursday, Facebook showed a number of new features to the development community. If you read tech blogs, you might have already read about most of the changes Facebook will be making in the coming weeks. But in all honesty, it is not just about the changes in itself. Facebook has started to move in a direction that we have all been expecting, but that we set in a far away future.
Facebook really is moving away from their social network status. They have turned around to the old saying that content is king and are building their own contextual and personality engines. They are working to share with me what I want to see. Serendipity goes out the door and is automated by their contextual engines 'accidentally' showing me exactly those things that I am looking for. It enhances my relationships with my friends on Facebook as Facebook emphasizes the ways in which we are similar and slowly takes out the bits that are less interesting.
And then there is frictionless sharing. Lets face it, this is something that we have been waiting for for years. You might not think so, but none of us really likes to spend time updating our social networks. In a lot of ways updating your network is time that could be spent on friends. Facebook is now offering you the option of updating your social network by itself, leaving you the extra time to spend on your friends.
There has been a lot of shouting about privacy and logging out of Facebook and using browsers in incognito mode. The funny thing is that most of us have Google accounts as well. They don't log out either. In fact, they have not been logging out for far longer than Facebook has been tracking our web behavior. Does that make it alright? Of course not, but it means that we do need to make clear choices on what we share with whom. Not everything should be for everyone. That goes for the new Timeline feature (pic), but also for frictionless sharing. And that is no different than it was last week. We still need to choose who we allow to see into our lives. Like we choose who we let into our living room.
Personally, I think Facebook has done a great job. Yes, I am enthusiastic and I expect many others will be as well. Mainly because it takes the work out of sharing what you are up to and it allows you to work on your relationships instead of your sharing apps. And that changes the playing field completely. Lets face it, will I consider another network that will not allow me to share with similar ease? Facebook has been a standard for social networking for some time. This will ensure that they will be for a long time to come and that if you want your network to be successful, you need to stay close to Facebook.