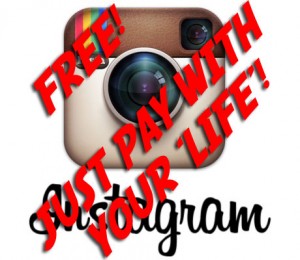 Yes, we have all been triggered by the update of Instagram's privacy and tems of service. Their Terms of use have just been updated to include their ability to sell your username and the rights to use the pictures you have taken to any interesting party.
Rights
2. Some or all of the Service may be supported by advertising revenue. To help us deliver interesting paid or sponsored content or promotions, you agree that a business or other entity may pay us to display your username, likeness, photos (along with any associated metadata), and/or actions you take, in connection with paid or sponsored content or promotions, without any compensation to you. If you are under the age of eighteen (18), or under any other applicable age of majority, you represent that at least one of your parents or legal guardians has also agreed to this provision (and the use of your name, likeness, username, and/or photos (along with any associated metadata)) on your behalf.
So, the world is shocked. Or is it? Dropbox pulled off the same stunt in July '11. Facebook has been sharing your content for their revenue for ages. And most startups are looking for ways to monetize the data on how you use their services. We need to accept that there is no free lunch on the internet.
Though prices of online storage and online technology have been steadily dropping, there still are costs involved in running any internet service. And as everyone is continually asking how you are going to be monetizing your fantastic idea, there is a good chance that you will be coming up with something along these lines as well.
The unfortunate part is that Instagram is now missing out on another great option for monetization. The PRO account. Why did instagram never create a paid account that I can use to share my content? Why did they not allow me to pay them to make their services profitable? And today it is too late. Yes, I have used instagram quite a lot over the past months. But as so many others, I will be removing my account and my images through Instaport. And offering a paid service now is too late. That should have happened before the change of the terms and conditions. Sorry.
If you are working on your startup, please keep this lesson in mind. I know Instagram has got many users, and possibly only a fraction will leave, but it is a trigger that might become the end of rising star Instagram and turn them into a bread and butter startup. So, if you are providing your services to your users for free, please make sure that your monetization will never depend on you selling on their content. Because people never like others to make money off their work.