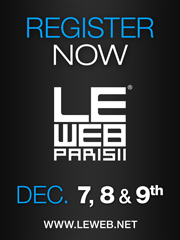 Yes, LeWeb will have a startup competition again. This year LeWeb is looking for the three best startups for the Social/Local/Mobile (SoLoMo – yes, the theme) marketplace. Is that you? Well, it might be if you have got anything to do with any of these. And the best way to find out is to enter the competition.
Something that I personally love in the approach to the competition this year is that they will be including a video element in their competition. And they have already said that creativity and originality will be the key to success. So, bring out the video equipment, the pizza, drinks and snacks and do an all night brainstorm with your crew how you are going to storm this competition. Read more on the LeWeb'11 agenda.
Btw. why do I love that video element that much? Because I know it will be fun to do, but also because I know it can pull your team together more. Hanging out and trying to get the weirdest ideas going to present your startup will get the most out of your team and bring you closer together after the stress of regular business. How do I know? In 2008 I ran a video competition with Erwin Blom and Lucien Burm. Soocial did a great movie that took the complete Next Web conference by storm. (They were not actually in the end results for the competition as they also won The Next Web's own startup competition.) Take a look at it below and then get to work!
Hassle Free from Soocial on Vimeo.