As LeWeb warmed up for the second day, I sat down with a startup that pitched their service to me. It was a good conversation and they told me that they left with a great view on how to improve their startup's strategy. Later that morning I was at the main stage long enough to see Marko Ahtisaari launch the new Nokia 620. Soon after, I was talking to the Nokia crew and Marko. It was great to work out a way to have Marko spend half an hour with the official bloggers of LeWeb. It was a great session where bloggers could ask any questions and Marko answered all of them. Regardless of how difficult they were. Then I met a friend who wanted to pitch her startup to Robert Scoble. Having made it happen, that left me time for a walking pitch with another startup after which I made my biggest LeWeb mistake so far. We sat down in the hallway for about 5 minutes so he could show me their service on his laptop and we talked about live blogging. A guy across from us got interested and he was included in the conversation. I saw his face and I distinctly remember seeing him before. So I told him that I was sure I had to know him, but that I had no clue what his name was. After a while he introduced himself to the other guy as "Matt" and it dawned on me. I had not recognized Matt Mullenweg of Automattic and WordPress. Ooops. Even though we had dinner with a small group of people in 2010. That is what you get if you are running around like mad all day.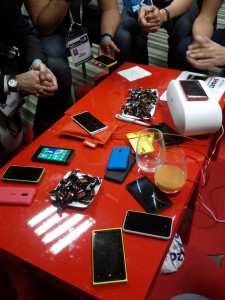 And it was going to stay that way, because before the demo was finished, I was joined by the industrial designer of the Lumia 620 and some of the technical minds behind it. They spent another 45 minutes with the official bloggers to show the new devices and explain why certain choices were made in the design process. But what struck me most was the passion and enthusiasm of the team. They know Nokia has lost a lot in the smartphone market, but for each of them personally, that what drives them to try to build the best phones they can think of.

To be honest, the two hours after that just flew with people that wanted to meet and making connections between various people that I believe can work together to achieve great things. It is awesome to see how happy people are when you can put them together with other great people.

At the end of the day, I fell into a chair up in our blogger lounge to unwind and hear how bloggers enjoyed their day. And really, it was just great to be in a chair for more than five minutes for the first time since 9am.

I hope that you will have as inspiring a day today as I had yesterday. If you have questions about LeWeb, let me know. I'll try to answer them. If you want to be inspired about social media, look up Ramon DeLeon. While I was writing this, he did an awesome presentation of what they have done for six Domino's Pizza in Chicago. I am not sure when the presentation will be out on the YouTube channel, but when it is, you need to watch it.

Ok, LeWeb is great. You might have figured that out by reading my previous post. But I love it. Unfortunately, due to what I am doing at LeWeb, I find I have much less time to write blog posts than I would like to. So I decided to just give you a quick recap of some of the things that made my day yesterday.