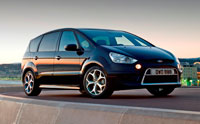 Over een ruime week vertrekken we naar Berlijn. Na overleg heeft Ford Nederland mij een Ford S-Max uitgeleend voor de reis. Tijdens de reis kun je de auto volgen door middel van een live verbinding die via de DutchCowboys site te zien zal zijn. Daarbij kun je inbellen om te praten over de snufjes in de Ford S-Max. Maar ook over de visie van Erno Hannink en mijzelf op de toekomst van het internet. Als alles goed gaat, kunnen ook de bellers live gevolgd worden via de video's. Maar, hier wilde ik het niet bij laten.
Voor de lezers die mij intussen een beetje kennen is wel bekend dat ik startups een heel warm hart toedraag. En daar wil ik ook deze keer weer aandacht aan besteden. Dus gaan we ook Pitch-Stops houden. Tijdens een Pitch-Stop krijgen startups de kans om in vijf minuten hun concept te pitchen op de achterbank van de S-Max. Of om hun ideeën aan te prijzen. Het maakt niet uit. Als het maar een pitch is en hij mag niet meer dan vijf minuten duren. Die pitch zal dan ook te zien zijn op de stream van DutchCowboys. Een perfecte manier om de aandacht op je te vestigen dus.
De eerste Pitch-Stop zal in Arnhem zijn. Daarna rijden we door naar Berlijn naar de Web 2.0 Expo. En daar zal de S-Max de hele week beschikbaar zijn voor Pitch-Stops bij de ingang van de Expo.
Als je ook wilt pitchen, laat het dan even weten, of tik me even aan op de Web 2.0 Expo in Berlijn.