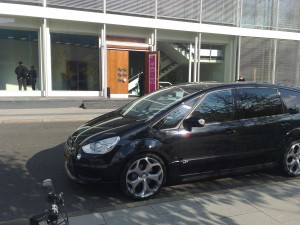 If you look out of the front doors of the Berliner Congress Center, you will see a black Ford S-Max parked right there. And it is there for a reason. Arne Hulstein has brought the car to the Web 2.0 Expo to give startups, new companies and people with great ideas a platform to promote their ideas on some great international blogs with a great audience in the Netherlands and Germany.
So, how do you get your pitch online? Head over to twitter and follow either @arnehulstein or @ernohannink. And then send them a message explaining who you are, what you do and what you want to pitch. That can get you into our car and onto the blogs. We will be there tuesday to thursday, so you do not have to miss out on any of your speakers. Just let us know what you want to do and we will get you sorted out.
Pitch to a broader audience, make a pitchstop.