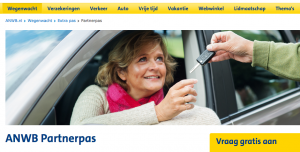 Een poosje geleden begon de ANWB een actie rondom de ANWB Partnerpas. Mijn eerste gedachte was dat we eindelijk niet meer afhankelijk waren van waar de pas was, maar dat we allebei konden profiteren van de €140 die we elk jaar aan deze fijne vereniging overmaken. We zijn tenslotte ook in gemeenschap van ANWB lidmaatschap getrouwd. Of tenminste, dat dacht ik.
De week na mijn aanvraag viel onze nieuwe partnerpas op de mat. Verheugd opende ik de envelop om de pas aan mijn vrouw te geven, toen mij iets opviel. De ANWB vind mijn vrouw helemaal geen volwaardig partner. Hoewel we al 14 jaar samen gezellig de premie overmaken, ziet de ANWB mijn vrouw als een nieuw lid. Een glimmend blauwe pas staarde mij aan vanaf de brief. Overduidelijk verward door mijn gezichtsuitdrukking, leek de glans er ook een beetje af te gaan. Teleurstelling aan beide kanten. Zelfs het nummer is niet hetzelfde. Hoewel mijn vrouw en ik als een eenheid worden gezien door de staat, de kerk, de buurt, onze familie, blijkt dit voor de ANWB niet te gelden.

Natuurlijk klim ik dan in de telefoon, want ik wil natuurlijk dat mijn vrouw ook al een volwaardig betaler van onze premie gezien wordt. Een vriendelijke stem aan de andere kant van de telefoon legt mij uit dat het systeem alleen maar toelaat dat mijn vrouw als nieuw lid wordt ingevoerd. Vandaar de nieuwe pas. Na wat aandringen beseft zij ook dat dat eigenlijk vreemd is. Ik kan me voorstellen dat de pas alleen geldt voor de gezinsauto. Dat is voor ons overigens prima. Wat ik niet snap, is dat haar hiermee ook de mogelijkheid ontzegd wordt om te profiteren van alle voordelen die het gouden lidmaatschap ons zou brengt. Zij mag dus weer helemaal vanaf 0 beginnen en als ze naar de ANWB winkel wil, dan moet ze toch weer mijn pas meenemen. Dat vind ik toch vreemd.
ANWB, kunnen jullie nou geen beter excuus bedenken dan "het systeem kan het niet"? Natuurlijk kan ik me voorstellen dat het een hoop gedoe is om een extra persoon toe te voegen aan een lidmaatschapssysteem waarin blijkbaar elke naam een uniek nummer heeft. Dat kan wat werk opleveren. Maar zorg er dan tenminste voor dat het aantal lidmaatschapsjaren overeenkomt met de werkelijkheid. Want nu komt het over alsof mijn vrouw nooit heeft bestaan voor jullie. (Dat is duidelijk ook zo, maar dat hoeven jullie niet zo duidelijk te laten merken.)
Mocht u nou ook nadenken om een partner status te koppelen aan uw product of dienst, bedenk dan eerst even wat het partnerschap precies inhoudt. Niet alleen van uw kant, maar ook vooral vanuit het standpunt van uw klant. Daarmee voorkomt u dat het lijkt alsof u een partner op een heel ander niveau neerzet dan uw klant verwacht. Daar wordt uw klant gelukkiger van. En u uiteindelijk ook.
Update:
Kort nadat ik deze blog publiceerde, kreeg ik een reactie van de ANWB. Ze blijken er over nagedacht te hebben. Of tenminste, zij vinden van wel. Ik denk daar anders over: