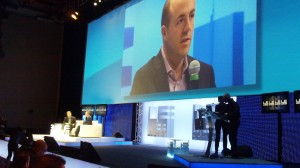 Myspace was het grootste en snelst opkomende platform een aantal jaren geleden en daarna is het onderuit gegaan. De laatste maanden is hard gewerkt om MySpace om te vormen naar een entertainment netwerk dat mensen gebruiken om zichzelf te verbinden aan hun favoriete bands, beroemdheden, tv series, films etc. Binnen MySpace hebben ze zich gerealiseerd dat ze niet de leider zouden gaan worden in sociaal netwerken. Om die reden hebben ze gekeken waar gebruikers op MySpace mee bezig waren en op basis daarvan zijn ze opnieuw gaan ontwikkelen. Een van de belangrijkste stappen daarin is dat ze een verbinding zijn aangegaan met Facebook, zodat gebruikers hun bestaande connecties en 'likes' van artiesten, series en andere dingen nu kunnen meenemen van Facebook naar MySpace. De twee netwerken vullen elkaar nu dan ook aan.
Het afgelopen jaar is er veel veranderd met nieuwe mobiele apparaten en de introductie van tablets en bijvoorbeeld de Apple TV. Daarom is MySpace nu bezig met het ontwikkelen van een aantal nieuwe applicaties die in de loop van volgende week beschikbaar gaan worden. Daarnaast worden ook nieuwe applicaties ontwikkeld voor de Apple TV. Het streven van MySpace is om de beste manier te worden om persoonlijk betrokken te zijn bij ons entertainment. Daarbij wil MySpace ook de sociale lens zijn over je entertainment evenementen en je entertainment ervaring.
MySpace richt zich nu vooral op het luisteren van muziek en op het ontdekken van nieuwe muziek. Je kunt je muziek ontdekken en dan kopen via de partners als iTunes. MySpace is hard aan het werk om een hoge kwaliteit audio te bieden en daarom zijn ze ook met hun compressietechnieken bezig. De kwaliteit moet omhoog, maar ze willen geen vervanger zijn van iTunes of dergelijke services. Ze willen wel een ervaring bieden die je je laat verbinden met het entertainment waar je van houdt. Want entertainment wordt ook social.
Ik zou graag eens met Mike Jones willen praten over zijn visie op hoe Nederland Twitter gebruikt tijdens shows als The Voice of Holland en So You Think You Can Dance die tijdens de uitzendingen met hun #tvoh en #sytycd hashtags Twitter redelijk hebben overheerst. Persoonlijk denk ik dat de manier waarop ze aan die ervaring kunnen toevoegen beslissend zal zijn voor hun succes in Nederland.
De Q&A met Mike Jones: