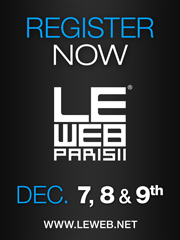 About a month ago we opened up the form to suggest the bloggers you would like to see at LeWeb. And now it is your chance!
Do you think you can add unique coverage to LeWeb? Do you love writing about conferences and spreading the word on everything you have heard? Then you might be the blogger/podcaster/vodcaster/etc we are looking for for LeWeb.
What do we expect of official bloggers? We are looking for people that:
Have a passion for content and reporting;
Commit to attending and covering the conference (it's in English) on their blog (any language);
Have significant reach and influence inside their community.
And naturally, they have to have a proper, publicly accessible and established blog or postcast. And by the way, having huge numbers of followers on whatever social network does not make you a blogger. Blogging does.
(An official blogger will receive tickets to LeWeb'11 for free. Every blogger will need to cover their own expenses for visiting the conference.)
Frédéric de Villamil and myself will be going over all submissions as they come in. This takes time. Please allow us to take that time. Each blogger we select to become an official LeWeb'11 blogger, will be contacted by us personally and directly.
Thanks!
And now, sign up if you feel you meet our criteria!