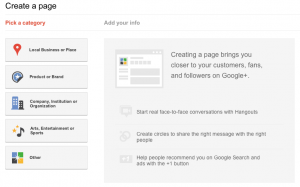 Yes, Google has added pages to Google Plus. And even though you might think that this is not that big a deal, I think it could have a lot more impact than you think.
Google has launched pages that are not that different from what we are used to in Google+. That means that, unlike Facebook, a Google+ page is just a single page. No extra fuss. No extra pages. They might come in the future, but for now your page only has a block of five pictures on the top, a timeline and three links to a limited About page and photo's and video's that you have uploaded. The good thing is that Google has incorporated the regular Google+ features. Obviously you can add pages to your circles keeping their communications where you would want it. However, what is much more interesting is the option to create a hangout on your page. So, if you run a celebrity page, you can now do an online meet and greet as easy as planning a time to open up the hangout. The Muppets did exactly that yesterday when you could chat with Kermit and Miss Piggy. And yes, this is to promote their new show.
Google+ Pages put the focus on people even more than Facebook does. Their point is that their pages are a great way to connect to the team behind the brand, the organization or the name. A valid point. And one that could explain the lack of extra pages. Though they might add the option to create extra tabs and create pages in the future.
So, with the parts they are missing, why would Google Plus Pages be even a remote threat to Facebook? Search, that is why. Even though more and more people use social search -asking friends a question- Google still holds all the cards in search. We have seen the impact of that with the +1 button which puts pages your friends have liked on top of your search results. And it won't be long until Google Plus Pages will be doing the same. Their pages will turn up before the Facebook version will. And that will happen across the board. Whether on the computer, tablet or mobile, Google Plus Pages might become one of the most natural entrances to your brand from the search results. After all the effort you have put into your Facebook page, you might not like the idea. But it might all be for the best if you are a company that takes its customers seriously. Because the entrance through your Google page might become your key to individual success with your customers. Hangouts with key representatives will get potential customers to connect to your products and services much more than Facebook will ever allow you to. And purchasing stays at your own doorstep instead of Facebook's.
Do I think Google Plus Pages will be a success? Yes. By the sheer size of the Google Plus network? No. But by the integration that Google is rolling out into every single one of its products. And by the personal nature in which you can start interacting with your audience.