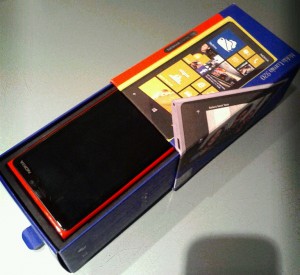 Having played with the Nokia Lumia 920 with Marko Ahtisaari at LeWeb in Paris in December, it triggered me to consider switching back to Nokia. Yes, I am one of those that has had a long list of Nokia phones up until the time the iPhone was launched, then I was sold. It was a great phone and a very good successor to my Nokia N95 of the time. Mind you, it is still lying on my desk as a reminder of how far smartphones have come in the past six years.
As many, my mobile device is one of the most important tools I have in my pocket. It helps me do whatever I need to do. From keeping appointments to calling and interacting with friends. It supplies me with the background tracks to my life and it accompanies me everywhere I go. So, my phone just needs to work. Period. I love a phone that facilitates me and does not bother me with the details. That is the reason why I first fell for the iPhone and why I have also added Android phones to my mobile experience. Even in the past seven days I have switched back and forth between Android 4.1.2 and iOS6. And now I have officially switched to the Nokia Lumia 920.
The arrival of the phone offered a deja vu. The box is very similar to the box of the Lumia 800 that I got a year ago. However, the phone is a lot better. I am glad they got rid of the -in my opinion- hideous bulge the glass had. The Lumia 920 is nice and flat all around. It is a big phone though, especially if you come from the 4″ phone screens. Luckily Nokia sent me a Lumia in vibrant red, because I love the fact that they don't have to be subdued colors anymore. You want to lay it on the table screen down just to see the red back. Obviously it comes with red in-ear earplugs that I have not tried out yet. Maybe tomorrow.
Now we get to the part where I set up a phone. I have already had a Windows Phone, but connecting it to my Microsoft account did not do much for my settings. Unline an Android phone that starts syncing everything right away, the WP8 phone just thanks you and syncs your mail, contacts and calendar from your Microsoft account. And as I am mainly on Google, that doesn't do anything for me. So, the quest for apps and syncs was on again. Luckily, connecting the phone to Twitter, Facebook and LinkedIn was easy. But there is no way to work with Google+. That is a shame. Also, you notice Google's complete neglect of WP8 as you find out there is no Gmail app for WP8 nor do they have Chrome for it. And those are my two most used apps on my Android, iPhone and iPad. That is annoying.
Last time around I started ranting about the notifications. Nokia's brand manager ensured me that it has improved a lot. So, I am looking forward to testing it out. Whatsapp seems to be working nicely with notifications that can be read -partly- at the top of your screen. Now I need to do the same for Twitter, Facebook and LinkedIn mentions. I see those on the so-called me-tile, but that doesn't trigger me much. Yet. And I am now trying to find alternatives for my most used apps on my other phones through an app searching service. We will see how that works out.
I would love to hear what your favorite apps are and what you would want to see me try with the Lumia 920.