Op de radio draait op dit moment een commercial waarin iemand een uitnodiging afslaat om naar een Grand Prix te gaan, omdat hij een exclusieve uitnodiging heeft gehad van zijn Opel dealer. Nou heb ik toevallig de uitnodiging gezien. Opel heeft bezitters van een Opel aangeschreven om ze uit te nodigen om gebruik te maken van een mooi inruil aanbod. En ze doen dat met een bon die je in kunt leveren bij je Opel dealer. Tot zo ver is dat een prima idee. Tot je de bon bekijkt.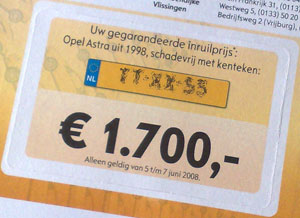 De bon bij de uitnodiging is keurig gepersonaliseerd met het merk, het model, de uitvoering, het bouwjaar en het kenteken van de auto. Een zorgvuldige benadering dus. En dan komt het pijnlijke punt. In een enorm lettertype wordt je daaronder een gegarandeerde inruilprijs geboden.
Een groot deel van de Nederlanders heeft geen enkel idee voor welk bedrag zijn of haar auto in de koerslijsten staat. Vaak weet men nog wel te vertellen welk bedrag ervoor betaald is toen de auto is aangeschaft, maar hoe het zit met de waarde na 2 jaar rijden, is de meesten toch onbekend. Daarbij hebben mensen vaak de neiging om te geloven dat datgene dat zij in handen hebben altijd een hoge waarde vertegenwoordigd. Pak je die twee zaken bij elkaar, dan kun je concluderen dat de meeste automobilisten geloven dat hun auto meer waard is dan waarvoor hij in de koerslijst vermeld staat. Want de koerslijst geeft een inkoopwaarde voor de dealer. En die moet daar ook nog van kunnen eten.
De groot genoemde prijs op de bon bij Opel garandeert een bedrag waarvan ik verwacht dat het onder de verwachting van de gemiddelde Opel eigenaar ligt. Dan wordt een exclusieve uitnodiging al snel een actie om exclusief weg te jagen. Vooral als uit de kleine lettertjes blijkt dat de actie enkel geldt bij nieuwe auto's die op voorraad zijn en niet voor de Meriva (te goedkoop?), de GT (te trendy?) of de Antara (te populair?). En uiteraard moet je eigen auto schadevrij zijn en staat er onderaan de bon dat Opel zich het recht voorbehoudt het bedrag nog aan te passen.
Wat mij betreft een koude douche voor Opel eigenaren. Ik wens de dealers dit weekend dan ook veel succes.
(Helaas is de automatische plaatsing van deze blogpost op 6 juni 2008 verkeerd gegaan. Vandaar dat ik hem nu alsnog heb geplaatst. Als iemand een overzicht heeft van het resultaat dat deze actie Opel heeft gebracht, dan voeg ik dat nog graag toe.)