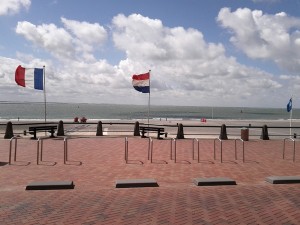 You can run a good business and offer great customer service. That will make your customers love you. However, they are basing their love for you on how you solved a negative situation. There is no argument about whether this works. Because it does. People enjoy a good solution and they will share it with their friends.
There still is an issue though. Every story will start with where it went wrong and they had to ask you for a solution. You can not rule out problems altogether. After all, we are all human, so we make mistakes. But try to be ahead of your customer. Be pro active about it. Talk to them as soon as you notice the problem, even though they haven't said anything about it. Tell them what went wrong, how much you regret it and offer them a solution.
Yesterday I had lunch with a friend at a great restaurant near the beach. My friend ordered the fish salad. After all, we were looking at the sea. During our lunch she noticed a piece of plastic in the salad. She didn't make a fuss about it, moved it to the side and finished the salad. Some time after, we asked for the bill and when it was brought, the waiter told us that he was sorry to see that we had the piece of plastic in the salad. He told us that he had ordered the cook to throw out the rest of that batch of fish and as an extra he gave us a ten percent discount on the bill. As you can imagine, we left the place more than satisfied and happy to eat there again. And over time, what will remain will be the gesture of the business, not the plastic. Because we never thought that was much of a problem anyway.
Be pro active. When something happens that you would consider to be a problem, solve it. Solve it before your customer makes a problem out of it. That will make you a winner with that customer. And with every friend he will tell it to.