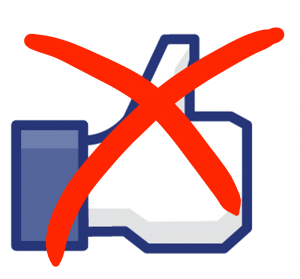 The like button has only been around for about a year. Just a year. And look what it has done. It has brought over us a storm of people asking us to click that button for their sake. It has brought us services that have included their own version of the like button like G+, +K etc. It has brought us endless buttons that are published for the sole reason of sharing a story somewhere on a timeline in your social universe. And now Facebook has come and taken it all away again. And that is a good thing.
To be honest, if you are a marketeer and your metrics consist of measuring your Twitter followers and your Facebook likes, you might as well use the weather report to assess your business success on social media. Though this might sound a bit strong, that is the truth. Neither of these figures tell you anything about your position in social media. The trouble is that neither of these figures shows whether there is a relationship. You can have a million followers on twitter and nobody who is actively engaged with you. The same goes for your Facebook likes. They might not have anything to do with the engagement of your customers. One of the reasons people would have to like you, would be to be able to post to your wall. Facebook has announced that this will change and that non-fans will be able to post to your wall soon.
Recent surveys show that people only "like" about 10 brands on Facebook. This means that not even all of your fans will be liking your page. As a matter of fact, I own and use a number of Apple products but I have never liked Apple on Facebook. And I bet you can look around your house and say the same thing about a lot of brands you use daily. On the other hand, liking has never been and never will be the basis of conversion. Your competitor with less than 1% of your likes might have built a very engaged community which might quadruple his conversion rate over yours.
The new social graph approach with frictionless sharing (automatic sharing of your ativities) and a redesigned timeline will make sure that your community will not be seeing as much of you as you might have wanted. And their network might not come across you at all. With the recent addition of the ticker for less important and quicker news, we see that most branded content ends up in the ticker and scrolls off the screen within seconds for more active users. There goes your like-button strategy.
Marketeers, just like anyone else on social networks, need to go back to the basics. What is the best way to engage with my audience? How can I connect to them on a personal and relevant level. How can I make sure that I help my target audience reach their goals. And how and when can I communicate with them on a personal level, so I do not interfere with, but add to their experience. If you are a marketeer for a company, whether you are small business or working for a multinational corporation, you need to let go of everything that you have learned about mass communication. You need to look at your target audience and just ask yourself one simple question; How can I relate to all these people in the most personal and relevant manner? If you can answer that question right, you are on your way to social media success. Especially on the new Facebook.