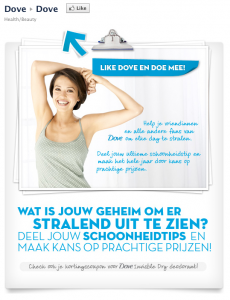 Earlier this week I came across a commercial from Dove that specifically asked people to like their Facebook page. In return for my click they offered me a €1 discount on one of their products. So, in essence they are asking me to connect my online reputation and my position in the time line of my friends to their brand. And in return? They are going to be giving me a buck. Seriously? Dove, what were you thinking? Offering a discount for linking or following might just be the ultimate way of failing on social networks. And Dove just topped that mark by stating that my loyalty to their brand and the attention of my friends is only worth a single Euro to them.
Getting followers on Twitter, Facebook, Google+ or any other network of your choice is about connecting. Connecting lives with your brand. Connecting personalities, connecting friends, connecting reputation, connecting values in life. It is not about the numbers. It is not about getting as many people as possible as fast as possible. It is about connecting and creating a useful exchange. Yes, I am willing to connect to a brand. In fact, I am very interested to connect to the brands I love because they are close to my heart. But there needs to be a useful exchange. I do not care about being a number. I care about being a person in contact with you. With your brand. Share useful things with me. I am not interested in brands that are just posting little updates on their wall for me to discover in my timeline. I am interested in brands that want to communicate to ME. Personally. To show me things that I am interested in. Things that I care to share. Reasons why I want to be part of the circle around them.
A simple lesson emerges from this. People who come in for a €1 discount are not really interested in you. They are interested in buying your product at bargain prices. Those are not the customers you are looking for. And people who love your brand will not come in on a discount offering as they feel you are not appreciating them, offering them a mere euro instead of a meaningful relationship.
If you were thinking of taking this approach, reconsider. Fast. And read my blogpost on stories and personal relationships.