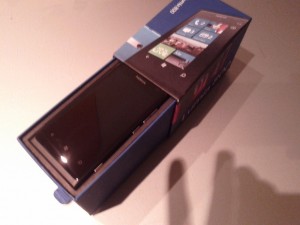 Last Friday afternoon I got my Nokia Lumia 800 in. First impressions were of a great looking phone with a solid feel to it. The packaging was nice as well, so it all built up pretty nicely. After getting myself a micro sim, the test period was on. I had set myself the challenge to really use it as my only phone over the coming weeks, to see how it would stack up to the iPhone and my Nexus S. Due to something missing on my Lumia, Nokia is going to exchange my phone for another one. Nothing to alarming, but to be honest, I loved the sound of my Nexus S turning on again.
I have written about Windows Phone before. But I had never tried to live with it. And that changed over the course of these last three days. I installed lots of apps, I made calls, took pictures, did video, texted and used social networking sites. Just like I do on my other phones. But it did feel different this time. Let me get this clear. I really do love the feel of the phone. I love the pictures it takes. I like how it integrates things into its user interface. And I definitely, definitely love the looks that Microsoft has given Windows Phone. The tiles are nice and mostly functional. Even though I don't understand why some are animated and some aren't.
But in a way, the phone leaves me feeling oddly detached. I am used to the notifications on Android 4.0 and iOS 5. Notifications that tell me when people want to interact with me across all networks. Yes, there is the "Me" tile that I can tap and then go to notifications to see Facebook, Twitter, Windows Live and LinkedIn, but that needs action from me. And as soon as I power up my Nexus S or iPhone, I get flooded with updates that I never saw on the Lumia. And that annoys me. My phone is not about calling. It is about interaction.
And about making a call. That is a completely different problem. When logged on to Twitter, Facebook, LinkedIn, Windows Live and four of my Google accounts, the address book becomes a total nightmare. Lots of people are in several of my networks, which puts them in my address book several times. But not all of them have phone numbers. So, I keep on choosing the wrong contact. And trying to call home, I didn't even find the number. I am sure there are great ways of streamlining this. I do that on the Nexus S and iPhone as well. But I have not found out how to do it on this one.
I think Nokia made a nice phone, but I am not enjoying it because Windows Phone doesn't work the way I would want it to. And I might be able to solve a lot of this by choosing the right apps. So, tell me, what are the apps you enjoy most on Windows Phone and why? And how did you sort out your address book? Looking forward to hearing from you so I can give the Lumia a second chance!