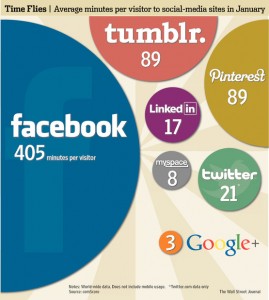 Ok, here it is: Facebook is not the holy grail in communicating with your customers. It is not even a nice place for ecommerce. And it is not just me that says this. There are actual statistics that say the same thing. Read on to find out why.
Before I start this, let me get one thing straight with you. I like Facebook. It is the biggest social network where people spend most of their time. We already knew people spend one out of every 7 minutes online on Facebook. Now, new statistics show that visitors in January spent 405 minutes on Facebook on average. So, a great place to be.
But that is where it ends. A great place to be. And the main reason is that that is what people do on Facebook. They are. They are with their friends, they talk, hang out, joke, play and all that. Commerce is rarely on their mind when they are on Facebook. Something that has been demonstrated last week when American retailers Gamestop pulled the plug on their store on Facebook after JC Penney and Nordstrom already closed their Facebook stores. "There was a lot of anticipation that Facebook would turn into a new destination, a store, a place where people would shop," Sucharita Mulpuru, an analyst at Forrester Research in Cambridge, Massachusetts told Bloomberg in a telephone interview. "But it was like trying to sell stuff to people while they're hanging out with their friends at the bar."
Data from startup PostRocket agrees with the conclusions of Sucharita Mulpuru and gives extra insights into what is happening at Facebook. One of the biggest misconceptions on Facebook has to do with people liking your page. For most marketeers the reasoning goes something like "Hey, we've got 4 million fans, so those are people who are ready to buy our stuff." However, data from BrandGlue indicates that 96% of the fans will never return to the Facebook page after they have liked it! And keeping in mind that a lot of page likes are gathered by advertising on Facebook, most people will never have visited the page in the first place. But assuming that all of your 4 million fans have, only 160,000 people will ever visit your Facebook page again.
Now we get to the PostRocket figures. Through their analysis they have found that the number of Facebook page visits amounts to 0.7% of your fan count. In our example that would give our page 28,000 views. Through the same analysis it was found out that a Facebook page only gets 0.4% of its fan count in unique visitors. In plain English, only 16,000 of our 4 million fans visit our Facebook page on a given day. A good e-commerce site like Gamestop (who had 4 million Facebook fans) brings in around 180,000 visitors every single day. That is over eleven times more!
But it gets worse. Facebook points your fans to your wall. Which means that if you want to sell anything to your customers, you need to install a tab application in Facebook. Data shows that non-landing tabs on Facebook pages only get between 1% and 10% of the page visitors. And the 10% is only reserved for ridiculously well performing tabs offering a direct discount or a super interesting deal. For the sake of argument, lets just take the average. Based on the 16,000 unique visitors we calculated before, only 800 unique visitors will actually be visiting the store (or another tab) on your Facebook page.
Long story short, on average only 0.02% of the fan count of your page will actually be visiting the tabs you created on your Facebook page. Can your situation be different? Of course it can be. Is Facebook a lost cause for companies? Certainly not. But you need to keep in mind that people are not on Facebook to buy. They are on Facebook to share and to hang out. That means that creating a good ecommerce site will easily beat your efforts on Facebook. Just something to think about.