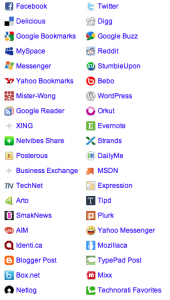 "Dat is allemaal best leuk wat jij daar mee doet, maar voor mij werkt dat niet." Een uitspraak die ik vrijwel dagelijks te horen krijg als het gaat om sociale media. Daarna volgt meestal een opsomming van oordelen die de uitspraak kracht bij moeten zetten. Als je verder gaat kijken, dan blijkt dat de meeste oordelen helemaal niet komen uit de eigen ervaring. De meeste oordelen komen van wat anderen er van denken of wat er in de krant gestaan heeft. De meeste oordelen blijken dan ook niets meer te zijn dan vooroordelen.
Om goed gebruik te kunnen maken van sociale media, hoef je geen bekende Nederlander te zijn. Je klanten hoeven niet allemaal gek te zijn van techniek, ze hoeven niet de hele dag online te zijn en ze hoeven ook niet jong te zijn. Je product hoeft ook niet iets bekends te zijn, of iets wat iedereen speciaal graag wil hebben. Om goed gebruik te kunnen maken van sociale media, moet je als ondernemer willen ondernemen. En ondernemen betekent in veel gevallen ook investeren. In sociale media is dat al niet anders. Als je een account aanmaakt op een site, daar een half uurtje mee zit te spelen en dan nog geen order binnen hebt, dan is dat normaal. Zo werkt dat.
Een paar eenvoudige stappen waardoor sociale netwerken voor iedereen kunnen werken:
Bouw een netwerk op; Zoek mensen op die je al kent en nodig ze uit om 'vrienden' met je te worden.
Deel dingen met je netwerk; Investeer in de mensen in je netwerk, deel informatie met ze, doe dingen voor ze en geef antwoord op hun vragen. Zo verander je connecties in relaties.
Beantwoord vragen; Vaak is er voor leden van een netwerk een gelegenheid om vragen te stellen. Maak daar gebruik van, vooral om je expertise te laten zien aan mensen buiten je netwerk. Maak er geen reclamepraatje van, maar deel kennis. Vaak komen mensen dan later naar jou persoonlijk toe als er nieuwe dingen spelen.
Biedt iets extra's; Binnen een netwerk is er vaak de mogelijkheid om leden iets aan te bieden. Soms is het te koppelen aan het lidmaatschap, maar soms ook aan een spelelement binnen een netwerk. Dit laatste zien we op dit moment bijvoorbeeld veel bij het inchecken via diensten als Foursquare, Feest.je etc. waar je degene die het vaakst heeft ingecheckt op jouw locatie bijvoorbeeld iets extra's geeft. Aangezien er om die laatste categorie echt ter plaatse gestreden moet worden, zul je zien dat mensen daarvoor ook vaker gaan komen.
Hou je onderwerp in de gaten; Vaak wordt er veel meer gesproken over het onderwerp waar jij goed in bent dan dat je zelf weet. Zoek regelmatig op jouw onderwerp, zodat je weet wat er speelt en wie er over spreken. Als je wat toe kunt voegen, meng je dan in het gesprek.
Zet die extra stap; Iedereen in het sociale netwerk is jouw potentiële klant. Doe een extra stap voor ze. Al vertaalt dat niet a la minute in omzet, het wordt gewaardeerd en die waardeering zorgt uiteindelijk voor extra omzet en nieuwe klanten door de relatie die je opbouwt.
Social media werken voor iedereen, want iedereen gebruikt ze. Soms om ook echt toe te voegen, maar het grootste deel als lezer. Als jij wel toevoegt, dan wordt je dus door veel meer mensen gezien dan je denkt. Dat geldt ook voor de slager op de hoek. Die wekelijkse post van 10 regels op een kookforum met een nieuwe tip om iets aparts te doen met vlees, die maakt het verschil. Daar bouw je naam mee op. En die naam nemen de lezers mee naar buiten, naar hun vrienden. En die vrienden? Die komen langs. Voor vlees.