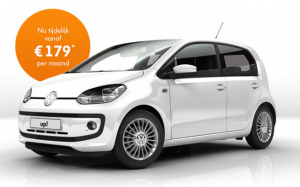 Ik heb altijd gedacht dat de Volkswagen up! gewoon een leuk klein autootje was. Maar de nieuwe reclamereeks voor de Volkswagen up! heeft mij toch even aan het denken gezet. In de reclame wordt een nieuw up! abonnement aangeprezen, waarmee je de up! kunt rijden tegen een redelijk laag maandbedrag. Maar aan het einde komt er ineens een opvallende twist in de reclame.
Toegegeven, de Golden Earring klinkt natuurlijk gewoon lekker. Als er ergens een keer een verzameling met "beste muziek om bij auto te rijden" uitgebracht wordt, dan staat Radar Love er wel op. Dus, dacht Volkswagen, laten we daarmee onze reclame besluiten. Zo gezegd zo gedaan. Ik heb niet goed genoeg geluisterd of er een echte parodie op is gemaakt, of dat mijn brein een Mama appelsap deed. Maar het viel mij op dat de Golden Earring ineens leek te zingen:
I've been drivin' an up!, my hand's wet on the wheel
En in eerste instantie klinkt dat gewoon lekker. Je ziet Barry Hay al met leren jack en zonnebril achter het stuur van een up! door Den Haag scheuren. En dan dringt de waarheid ineens tot je door. De up! is gewoon eng, of in ieder geval heb je je handen er aan vol om hem te rijden. Want Barry zit wel met natte handjes achter het stuur. Dat overkomt mij nooit in een auto, behalve na een gevaarlijke situatie waarbij de adrenaline door mijn aderen stroomt en het zweet in mijn handen staat.
Sorry Volkswagen, ik denk dat ik de up! toch maar aan mij voorbij laat gaan…